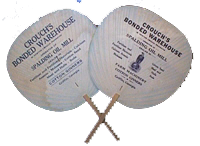 In 1940, Newton Crouch, Sr. purchased the cotton gin and fertilizer business from Walker Brothers. Under his leadership, Newton Crouch Inc grew to be a regional fertilizer dealer servicing central Georgia and east Alabama. In addition to fertilizer, he continued as a cotton gin and cotton warehouse.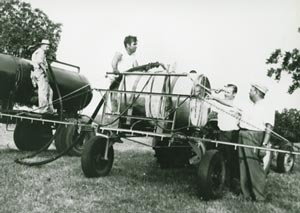 As the crops, fertilizers, and the economy changed in the mid 1950's, NCI adapted to serve the new requirements of the industry. This included being the first in the state to have liquid nitrogen delivered on site. With the advent of this new fertilizer, Newton realized that the industry needed more advance liquid spreading equipment as well as equipment for solid fertilizers. Newton Crouch, Sr. recognized that an even spread pattern over the entire swath was critical to uniform production therefore he developed the twin spinner method to accommodate the granular fertilizers. During the late 1960's and early 1970's, NCI was recognized as the industry leader for its simplicity of design and even spread patterns.
Today, NCI manufactures a wide range of equipment for a large number of specialty crops such as sugar cane, cotton, citrus groves, forestry, tomatoes, wheat and even food plots. The NCI product line includes a broad range of liquid sprayers and applicators as well as dry fertilizer/lime spreaders. Our equipment can be mounted on a chassis, pull-type, or 3-point hitch. Ingenuity and versatility have kept NCI growing. As the market demands change, NCI has helped in revolutionizing the orange grove spreaders and citrus market.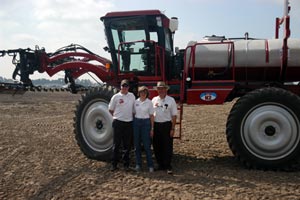 In the new millennium, Newton Crouch Inc continues to be a family owned business and has kept up with developments in the Ag Industry. As technology and agriculture have come together utilizing global positioning and variable rate technology, NCI has been proudly involved in Precision Farming techniques. Precision Farming's goal is environmentally safe and cost-effective methods for farmers or producers. NCI offers control through computer systems and variable rate technology which allow the user to monitor many factors while maintaining a constant flow of materials over various speeds. The materials spread can be granular or blended fertilizer, lime, land plaster, slurry, NPK, liquid fertilizer, OMRI, or litter. Depending on their makeup, these products can be spread, applied, or injected in a controlled application and location depending on the farmer's goals. For convenience, controllers are installed in the truck cab for truck mounted units or in the tractor for pull types. In addition to building the equipment, NCI sells and installs the controllers and offers training on how to effectively use the controller.

A NCI spreader is MADE IN AMERICA. NCI has manufactured over 17,000 units and is currently the second largest supplier of truck mounted spreaders in the United States. In addition to equipment, NCI has a Parts Department which carries over six thousand items specifically for agricultural equipment.