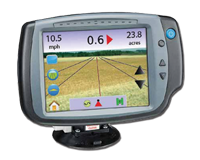 Matrix Pro- Only system that displays guidance and video simultaneously:
Blends animated guidance information with real video image on a single display to improve accuracy
Ideal for monitoring hard-to-see machine operations
Choice of guidance over video, guidance only or video only
Matrix Pro 570G:
Compact, bright, daylight, nighttime readable 5.7″ screen –80% brighter than competitive screens
Works with up to 4 cameras
Matrix Pro 840G:
Compact, bright, daylight, nighttime readable 8.4″ screen – 200% more viewing area than Matrix 570G and an even brighter display
Works with up to 8 cameras
Split-screen 4 camera view
Matrix Pro 570G and 840G Benefits:
Precise accurate guidance in all terrains
Easy-to-use 3D graphical guidance
Coverage mapping/data export; import coverage data into Google Earth for realistic area view
Economical add-ons

BoomPilot® automatic boom section control
FieldPilot® auto steering
Tilt Gyro Module
Antenna upgrades

Outstanding value – competitively priced with more features
CenterLine 220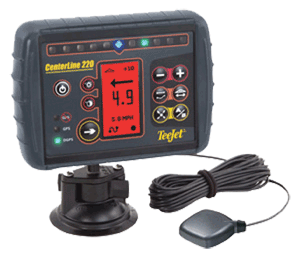 The compact CenterLine 220 is designed to let you profit from GPS lightbar guidance with any field operation. Inside the compact guidance system is a high-quality WAAS/EGNOS GPS receiver and the guidance capabilities that make TeeJet leaders in lightbar guidance. Learn more about the Centerline 220.
Versatile GPS guidance in a compact, portable package.
LED lightbar guidance plus a graphical display for complete guidance information.
High-quality, 5 Hz internal GPS engine with external antenna.
Simple setup gets you up and running in no time.
Straight-line (parallel) and curved AB guidance modes.
Integrated look-ahead functionality anticipates vehicle's future position.
Return-to-point feature.
Durable, sealed rubber keypad is easy to see and provides good tactile feedback.
Provides RADAR-like speed signal output for use with other control systems that require a ground speed signal.