At Newton Crouch, we work with farmers in every aspect of agriculture to solve problems and innovate. Recently, NC teamed with a poultry farmer to develop this nimble, compact spreader for his poultry operation.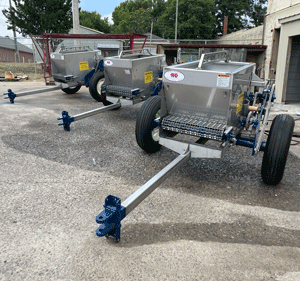 In order to make the best design, we had to understand the science of the problem.
Darkling beetles cause huge loses in poultry houses by spreading diseases that can kill entire flocks, consuming poultry feed costing thousands to replenish food supplies, and damaging the insulation of poultry house walls as they crawl in poultry litter.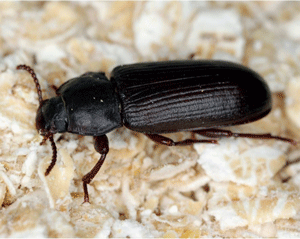 Application of boric acid in swaths along the floor of the poultry houses is a quick, cost effective means of management. Boric acid has a triple mode of action as a neurotoxin, stomach poison and desiccant which makes it difficult for an insect population to become resistant. BA has the longest residual activity of any insecticide used for crawling insect management and is very safe to use around poultry.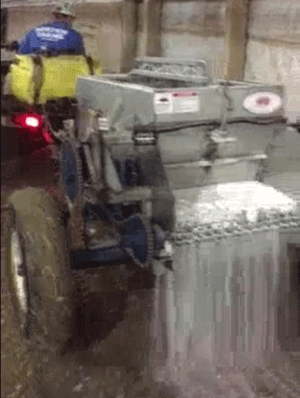 Features:
Hull – 45″ X 24″, 304 stainless steel, 12 cubic foot capacity
Dimensions – 48″ tall X 96″ long X 64″ wide, overall
Conveyor – 24 inch, stainless, outside reinforced straight pin chain
Ground drive bed chain
Trailer – stainless steel framed
Trailer tongue 48 inches long
Hitch – 2 inch ball with bolts to an adjustable clevis
Tires – 7.5 X 15L
Tarp – fitted
Gate – adjustable from 1 – 4 inches
Rate – Controlled by sprockets, range of .0688 lb/sf to .0833 lb/sf
Pictures may show enhancements
Enchancements:
Lights – 4 LED for extra visibility inside poultry house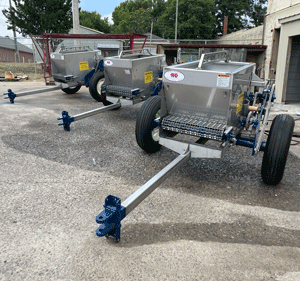 Click Picture to view SlideShow
Poultry House Boric Acid Drop Spreader on our YouTube Channel