Now is the time to buy liquid storage tanks! Norwesco has announced price increase for next year and as oil prices rise so will liquid nitrogen prices. Call today to learn more and get your order placed before any price increases.
NCI carries a full range of Norwesco products. These polyethylene tanks are manufactured to strict quality guidelines to ensure years of high-performance use. Rugged, impact-resistant, one-piece seamless polyethylene construction makes Norwesco plastic tanks excellent for the storage, and / or transport of most liquid fertilizers, herbicides, insecticides, fungicides, and liquid urea as well as a wide range of other chemicals. Norwesco's poly tanks are manufactured using resins that meet FDA specifications to ensure safe storage of potable water.
Norwesco manufactures many of its polyethylene tanks at a facility within 2 miles of Newton Crouch Inc Griffin. If you buy from an online tank dealer and pick-up or have shipped from a Norwesco plant, you will generally pay a pick-up or minimum order fee. However, if you buy your poly tank through Newton Crouch Inc and pick up at one of our three locations, you will never have to pay these fees. Also by picking up at a NCI location, you will save on freight and have access to our extensive line of Norwesco fittings, valves, and couplers.
Not all tanks are manufactured at every Norwesco facility. Please call NCI for details on freight and pickup.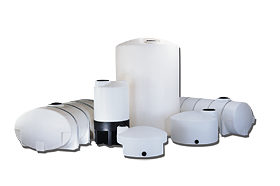 For Additional Information, go to:
www.norwesco.com
We offer a variety of liquid storage tanks with capacities of 15 to 15,000 gallons.
Norwecso's poly tanks come with a 3 year warranty. We stock elliptical plastic tanks, horizontal plastic tanks, vertical plastic tanks, leg tanks, water tanks, below ground water tanks, PCO tanks, plastic septic tanks, septic cisterns, poly inductor tanks, poly pressure washer tanks, and applicator plastic tanks.
We also offer a variety of metal storage tanks.