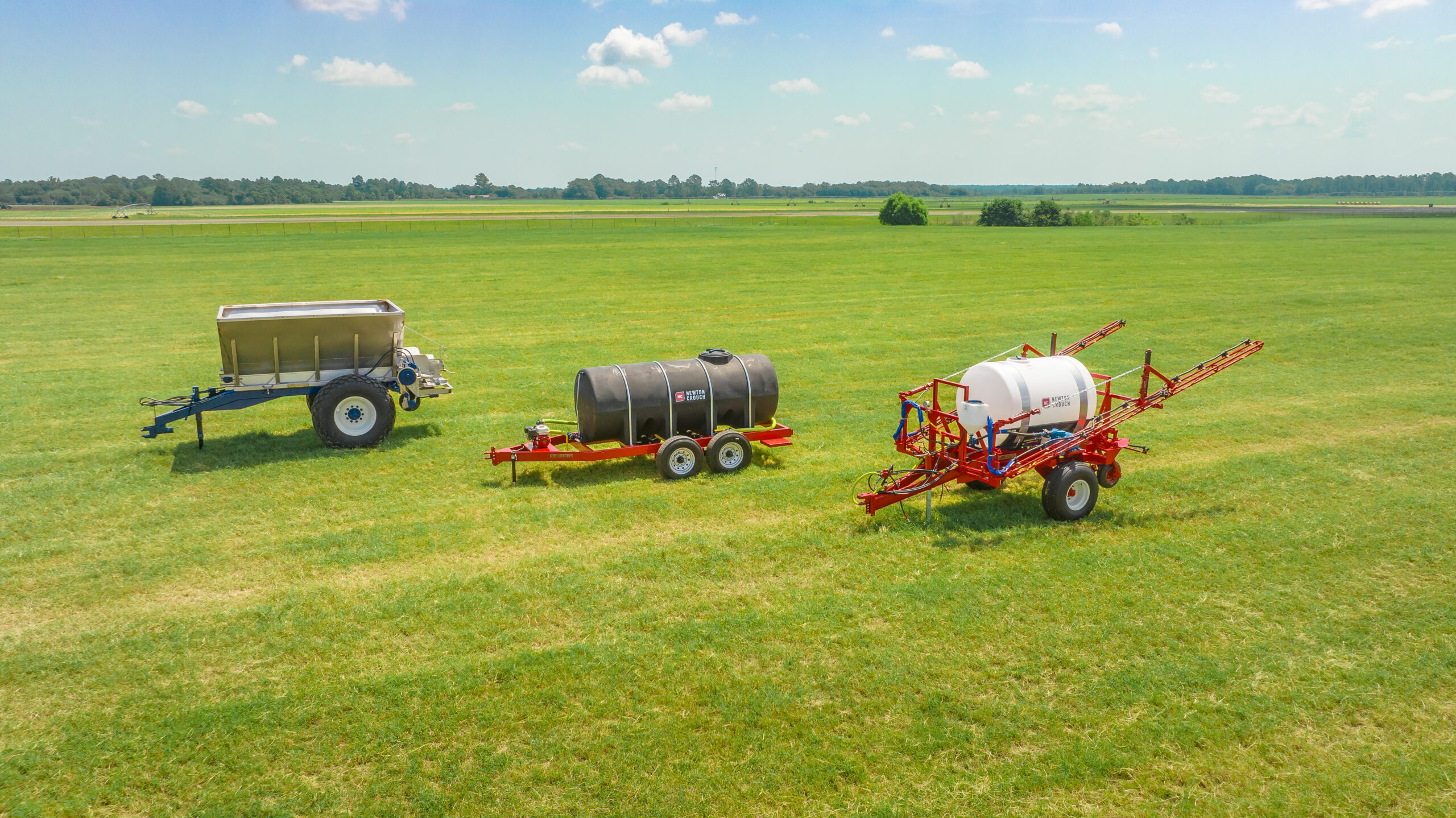 Terms & Conditions
WE APPRECIATE YOUR BUSINESS
Thank you for making Newton Crouch Spreaders and Sprayers the leader in the agricultural industry. Newton Crouch is a small business, and we greatly appreciate your continued support. We take pride in offering our customers a high-quality product line, wide variety of parts, and knowledgeable staff to serve you. The following terms and conditions govern the sale of any and all products, goods, parts or equipment manufactured, resold, or supplied by Newton Crouch Company, LLC ("Seller") to you ("Buyer").
I. GENERAL TERMS AND CONDITIONS
MODIFICATION OF TERMS Seller's acceptance of any order is expressly subject to Buyer's approval of each and all of the terms and conditions set forth below, and Buyer's agreement to these terms and conditions shall be conclusively presumed from Buyer's access to this document without prompt written objection thereto or from Buyer's acceptance of all or any part of the goods ordered. If Buyer's purchase order or other correspondence contains terms or conditions contrary to or in addition to the terms and conditions set forth below, acceptance of any order by Seller shall not be construed as assent to such contrary or additional terms and conditions or constitute a waiver by Seller of any of the terms and conditions.
PRICE Prices are subject to change without notice. Parts and equipment are subject to change without notice. All remittance is due in U.S. dollars. Unless otherwise specified: (a) all prices, quotations, shipments and deliveries by Seller are FOB at one of Seller's locations; (b) Seller may ship goods prepaid to Buyer's location only if written shipping instructions have been received from the Buyer; (c) all prices, together with related extras and deductions, are subject to Seller's price in effect at the time of shipment; and (d) all transportation, tax, and other charges are the responsibility of the Buyer, including all increase or decrease in such charges prior to shipment; and (e) the Buyer must furnish Seller with appropriate tax exemption documentation or tax will be charged on the invoice. Payment of said price shall be due at the remittance address shown on the Seller's invoice 30 days after the date of Seller's invoice. Interest will be charged at a rate of 1.5% per month on all balances outstanding more than 30 days after the date of the invoice.
CREDIT If, in Seller's judgement, Buyer's credit shall become impaired at any time, Seller shall forthwith have the right to decline to make shipments hereunder, except for cash, until such time as said credit has been reestablished to Seller's satisfaction.
DEFAULT IN PAYMENT If Buyer fails to make payments on any purchase between Buyer and Seller in accordance with Seller's terms, Seller, in addition to any other remedies available to it, may at its option, (a) refuse further shipments until such payments are made and satisfactory credit arrangements are reestablished, including the right to demand cash; (b) cancel the unshipped balance of any order; or (c) reclaim the goods upon demand made within ten days after receipt by the Buyer.
RETURN All returns (for warranty replacement, refund, or repair) must carry a return goods authorization number from the Seller's location where goods were ordered. Returns must be handled immediately (within 30 days of purchase). Credit will be issued for the net invoice cost less all allowances, freight charges, a handling charge and additional charges for any items not received in salable condition. The final credit issued, in any event, will be subject to Seller's inspection to determine condition.
II. LIMITED WARRANTY OF SELLER
LIMITATION AND EXCLUSIVE REMEDY Seller hereby disclaims all other warranties not described below including but not limited to any implied warranty of merchantability, implied warranty of fitness for a particular purpose or any other express or implied warranties and any warranty created by statute or by operation of law. There are no other warranties except as specifically included above. THE SOLE AND EXCLUSIVE REMEDY FOR THE BREACH OF THIS WARRANTY IS LIMITED TO CREDIT ON FUTURE PURCHASES. There are no warranties which extend beyond the description on the face hereof.
WARRANTY TERMS Seller warrants, to the original Buyer only, against defects in material and workmanship for a period of six (6) months from the date of delivery to Buyer.
This warranty shall only be effective if the Seller has a reasonable opportunity to investigate the alleged defect. If the Seller determines, upon examination at one of its locations or in the field, that the equipment or any part of it alleged to be defective is not defective or was not defective at the time of the sale or delivery, the Buyer shall be entitled to no remedy under this warranty.
This warranty does not apply to parts or components designed for replacement in less than (6) months.
Buyer acknowledges that some products may not be replaced or repaired due to obsolescence or changes to vendor processes. Where this warranty applies, Buyer agrees to accept substitute materials or components at Seller's sole discretion.
Any machinery, equipment, component, or accessory furnished by the Seller as part of the Seller's goods, but manufactured by others, are warranted only to the extent of the original manufacturer's warranty to the Seller. Seller expressly disclaims any warranty beyond that provided by the original manufacturer's warranty.
TERMINATION OF LIMITED WARRANTY Seller is relieved of its obligations under the Limited Warranty of Seller (Section II-1. above) if: (a). The goods are modified or altered without the authorization of Seller; (b) Any inappropriate, unapproved, loading or improper attachment on the goods; (c) The goods are moved outside of the United States and/or Canada; (d) The alleged defect is the result of normal maintenance and replacement of service items; (e) The alleged damage or defect is caused by misuse, abuse, neglect, accident, faulty component installation or improper operation of the equipment by Buyer; or (f) The alleged damage or defect is caused by using the goods in a manner inconsistent with the applicable operating manual, good practices, or reasonable care.
ADDITIONAL LIMITATIONS ON LIQUID CARRYING VESSEL WARRANTY In addition to the warranty and limitations described herein, liquid carrying vessels are subject to the following additional limitations. The warranty does not apply to the loss of any liquid within the vessel, or any incidental, special, or consequential damages arising from, or related to, the loss of any liquid. The warranty is void if the vessel failed because of inadequate support of the vessel, misuse, lack of reasonable care, or use of chemical formulation not recommended by the vessel manufacturer. The Buyer shall check all labels for the information on known chemicals, temperatures, or combinations thereof that are detrimental to the vessel, parts, gaskets, or any other component parts. The Buyer shall determine the suitability of any liquid for use in the goods and assumes all risks and liabilities arising from the selection, use, storage, or application of any such liquid. Seller has no liability for the installation or removal of any tanks, environmental contamination, fires, explosions, or any other consequences allegedly attributed to a breach of warranty.
III. PRODUCT SAFETY & DEVICES
PRODUCT SAFETY INFORMATION The Buyer has sole responsibility for reviewing the operation manual of the particular good and any other relevant safety materials prior to use or operation of any goods purchased from Seller. Other relevant safety materials include, but are not limited to, safety manuals for attachments used with the goods, motor vehicle operating manuals, Safety Data Sheets, DOT regulations, and OSHA rules and regulations.
Buyer must use the goods in a safe and lawful manner in compliance with applicable health and safety regulations, laws, and general standards of reasonable care. Buyer acknowledges that such laws and regulations may require use of additional safety devices or procedures, which is Buyer's sole responsibility.
Buyer further acknowledges that certain goods are intended for agricultural use only and may not be suitable for use on public roads. Buyer agrees to comply with all applicable DOT rules and regulations in the use or operation of any goods provided by Seller.
IV. TECHNICAL ASSISTANCE
Seller may provide technical advice regarding the goods online and may also provide technical advice in person or over the phone at Seller's discretion. Seller assumes no obligation or liability for the use of any such advice, or for any results occurring because of the application of such advice. Seller shall have no liability for the loss of profits or any incidental, special, or consequential damages arising from, or relating to, technical advice provided under this section. Buyer shall have sole responsibility to determine the compatibility, selection, use of materials and applications of materials to be used with Seller's goods. Changes in product design, technology, vendor components and similar occurrences may affect the contents of technical advice and Buyer is obligated to obtain the most recent technical information available from Seller prior to use.
VII. OTHER LEGAL MATTERS
COMPLETE AGREEMENT The terms and conditions set forth herein, together with any other documents incorporated herein by reference constitute the sole and entire agreement between Buyer and Seller with respect to any order superseding completely any oral or written communications. No additions to or variations from such terms and conditions whether contained in Buyer's purchase order, any shipping release or elsewhere shall be binding upon Seller unless expressly agreed to in writing by Seller's upper-level management. No dealer has the authority to make any representations on behalf of Buyer, or to modify the terms or limitations of the above warranty in any way.
GOVERNING LAW All orders are accepted by Seller at its mailing address in Griffin, Georgia, and shall be governed by and interpreted in accordance with the laws of the State of Georgia.
FORUM SELECTION All disputes related to these terms and condition, including the limited warranty shall be litigated in the Superior Court of Spalding County, Georgia or the United States District Court for the Northern District of Georgia.
SEVERABILITY If any of these conditions shall be deemed invalid, void, or for any reason unenforceable, that condition shall be deemed severable and shall not affect the validity and enforceability of any remaining condition.
CHANGES TO TERMS AND CONDITIONS Please review the most recent version of Buyer's terms and conditions at newtoncrouch.com Buyer reserves the right to make changes to its website, policies, and these Terms and Condition at any time.