NCI has designed equipment to allow our customers to use a single truck for both de-icing salt brine application AND right-of-way roadside herbicide application. Why have a truck dedicated to a use that is only relevant for a few months a year? If you only need a single specialty skid, then that's all you buy.
In the south we may not have snow or ice every year, but when we do, it's a doozy! Our brine unit will let you get a jump on the weather. Driving 45 mph you can cover a lot of territory. It is simple to operate and maintain.
The roadside sprayer will get a workout in the hot summer months fighting the weeds and kudzoo that grow even in a drought. You have a choice of 3 speeds and 3 sets of nozzles plus a handgun.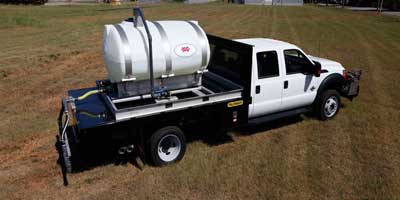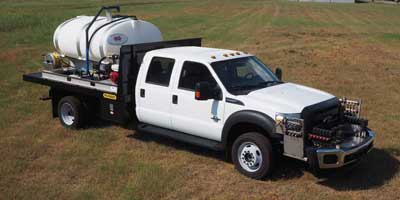 Brine De-Icing Equipment Specifications
TANK:
Tank – 750 Gallon Poly with 3 Year Warranty – Elliptical 83" Long, 46" Tall, 73" Wide
Upgrade Lid, Lockable, Air Vent
Stainless Steel Skid
Mounting Brackets to install tank in truck Tank Bands, Stainless
Baffle Balls (82) Installed to prevent slosh
Air Gap Load
Herbicide Right-of-Way Equipment Specifications
TANK:
Tank – 750 Gallon Poly with 3 Year Warranty – Elliptical 83" Long, 46" Tall, 73" Wide
Upgrade Lid, Lockable, Air Vent
Stainless Steel Skid
Mounting Brackets to install tank in truck
Tank Bands, Stainless
Baffle Balls (82) Installed to prevent slosh
Air Gap Load
SPRAY CONTROL:
Designed to fit a full size pickup truck – 6" forward of CA
Electric On/Off Switch in Cab
SPRAY CONTROL:
2 Controls of 6 Nozzles each & Single Digital Pressure Readout
2 Sets of (3) 260-11 Nozzles, 1 set on each side + 2 Sets of (3) 180-6 Nozzles, 1 set on each side + 2 of (1) 500R Nozzle, 1 on each side
2 additional On/Off for Auxiliary Nozzle
Mounted on Stainless Steel Stand
Kill Switch for Engine
DROP BAR:
Gravity Feed Unit
Gravity Bar – 8 Feet Long, Holes every 2" – 9/64" in Diameter
SPRAY BAR TIPS:
Left and Right Spraying Bar – Stainless
Special Design Head with single pivot of 3 nozzles: One for 11 foot spray pattern, second for 6 foot spray pattern to operate at 5 and 15 mph
Auxiliary left and right nozzle to spray at 21.4 mph – 11 foot spray pattern
Spray nozzles and fittings up to hose shank to valve, Stainless Steel
Each pair of nozzles to have flow back valves that will keep pressure the same as one is turned off (not available on auxiliary nozzle.)
Pressure supplied by 9 Hp Engine – HONDA with Hypro Centrifugal Pump
Special Seal to extend dry run time
HOSE REEL:
Hose Reel – Manual Crank
100 Feet High Pressure Hose-3/8"
Adjustable Gun
Swivel at Hand Gun