Our Poultry Litter Treatment (PLT) Spreader is designed for spreading litter amendment inside poultry houses to improve air quality. The PLT helps maintain air to prevent harm to chickens since ammonia buildup can harm feet, breasts and eyes of poultry.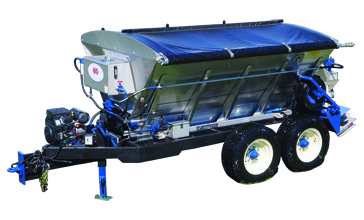 Model 47PLT Pull Type Specifications:

Hull – 10' x 90" with 2" high side, 304 stainless, bolt-on
All stainless hull, gate, dishes, blades, gate jack, roller chain
Conveyor – 24 inch stainless, outside reinforced straight pin
Heavy Duty 30 inch dishes (3/16"), 6 blades (¼")
Self-contained hydraulics with 20 gallon hydraulic tank mounted on front panel
Honda GX 690 CC, 22.1 hp gas engine for hydraulic spinners
Brand flow control valves for spinner speed adjustments
Spinner motors mounted on top
Hydraulic cylinder to engage/disengage drive wheel on bed chain
Ground drive bed chain
Tie downs – bolted to trailer, allows for easy maintenance
2" rear roller bearing with UHMW to prevent leakage
Front and rear roller shields
Frame – 6 inch tubing
Trailer – powder coat paint, blue
Tandem 10,000 torsion axles
Brakes – tandem axle surge electric over hydraulic
Jack – 12,000 pound drop leg
Spindles – 8,000 pound, stress proof (4)
Hubs – 8 Bolt, 8,000 pound rating
Hitch – heavy duty pintle / GI hitch rated 42,000 lbs
Safety chains with hooks, 2
Herculiner coating completely covering frame
Side to side low profile tarp with stainless steel end caps
LED stop turn and tail lights with 7 wire plug
Scales – 4 point load cell system w/ junction box & 640 monitor
Enhancements
Stainless steel fenders with mud flaps
Tire wash system – 5 gallon cone tank, ball valve, Shurflo pump, diaphragm QC nozzle bodies, 1 nozzle per tire
Backup light bar – 14" bar , On/Off switch in control box mounted in between spinner motors
Backup camera system 7" screen
Nitto ridge grappler 12 ply rated for 3,970 lbs each
Tire wash system
Model 54 Poultry Litter Treatment Chassis Spreader
Hull – lengths 9 to 14 feet; 304 stainless, bolt-on
All stainless hull, gate, dishes, blades, chassis tube, gate jack
Stainless chute screw with stainless bearing and chute coupler
Conveyor – 24 inch stainless clinched chain
Low profile compact design
Full catwalks/fenders – 93 inch wide against ribs
Heavy duty 30 inch dishes (1/4″), 6 Blades (1/4")
All hydraulic transmission control
Motors mounted on top
Spinners – twin in series; 1.25" shaft
Oil tank – 40 gallon with sight gauge, stainless
Filters – suction (internal) and large capacity return
Lights – stop, tail , turn – above catwalk, LED
Heat shrink on hydraulic fittings, rear only
Baffle – 1/4" stainless and baffle shield
UHMW around rear roller
Inverted vee, stainless
Enhancements:
Rheostats dual control for conveyor and spinners
Tarp with low profile ends, stainless
Special options on hull length
Conveyor – outside reinforced chain
Scales with brackets and belly pan
Digital scale printer & camera mounted in cab
Screw conveyor delivery
Lights – LED rear
Camera
Bearings – stainless
Ladder – stainless
Poly edge flighting
Tire wash system
Learn
More
Watch a video of Chase Hassey explaining the tire wash feature of this spreader.