Model 41 – Grove Spreader
Newton Crouch Inc's Grove Spreader is perfect for your citrus groves. With a variety of options and capacities, NCI can build the ideal spreader for your needs whether you specialize in oranges, grapefruit, or other citrus trees. Tree See technology gives precise applications.
NCI spreaders have a wide variety of options. Customize your spreader to your requirements – not a one size fits all – by speaking with our knowledgeable representatives who can advise you on components to get the best equipment for your use. Call 877-605-0273 toll free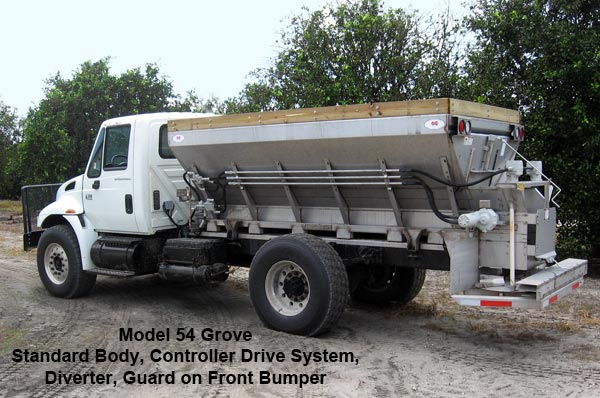 Features:
Capacities of 3 or 5 tons
Fertilizer and lime spreader
Stainless steel hull, and conveyor
Trailer length fully supports hull
Trailer is powder coated, blue
Hull bolted on for easier trailer maintenance
Conveyor options of 16 and 24 inch or 8 inch split chain
Dishes are flat with skids mounted underneath for additional support
Weight box with hook
Adjustable Bander
Tree See Technology available
Tires – 49L x 19
Pictures may show options
Drive Options:
Tractor Hydraulics
PTO
Variable Rate
All Hydraulic
Self Contained Hydraulics
Enhancements:
Eyes
Diverter with flaps
Reduction gears
Ladder
Window
High side to increase cu.ft.
Check out NCI Truck Spreader Brochure
Learn
More
Find out more why NCI is The Spreader of Choice.